To make student housing affordable for all we offer two services :
Find a free student room in exchange of your own student room

The exchange can be mutual or not

Daphné, a student in Paris wants to stay one semester in London but cannot afford the housing. Instead of giving up her dream, she decides to list her student's room at her parents' apartment on troctachambre.com.
Her listing is attractive and she receives an exchange offer for Thomas's student room in London who is an architect student looking for a room in Paris. So for only 19€ a month (exchange fees), both Daphné and Thomas can spend a few months abroad without worrying about housing costs and save their money to enjoy their new cities !
This exchange can be like Daphné and Thomas in the same city but also Daphné could have used Thomas's room in London while he would go to Maria's student room in Barcelona for example.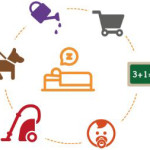 Enjoy a free student room with a family in exchange of services

In average 10 hours per week

This option is more suitable for students who do not have a student room by themselves but still want to study or stay in another city.
It is cheaper and more convenient than to be an au-pair as most of the listings are asking for 10 hours or less of services.
All the services are legal and checked ahead by our team and are compatible with a student planning e.g : baby-sitting, school runs, pet-sitting or gardening.